Holive extra virgin olive oil from Israel
* Cold pressed from hand picked olives without heat or chemicals so you can taste the authenticity.
* Natural source of the antioxidant hydroxytyrosol.
* Holive Oil has a subtle blossomy flavor with nutty undertones, a bit of a peppery bite, and a flowery, fresh fragrance.
* Use in every recipe that calls for olive oil - Holive enhances every dish.
* Packaged in generously sized 30.4 fl. oz. (900 mL) easy pour metal bottles that protect the olive oil from damaging light. Star K certification.
Regular price
Sale price
$49.00 USD
Unit price
per
Sale
Sold out
Share
SKU:
Heart Healthy

Free US Shipping
View full details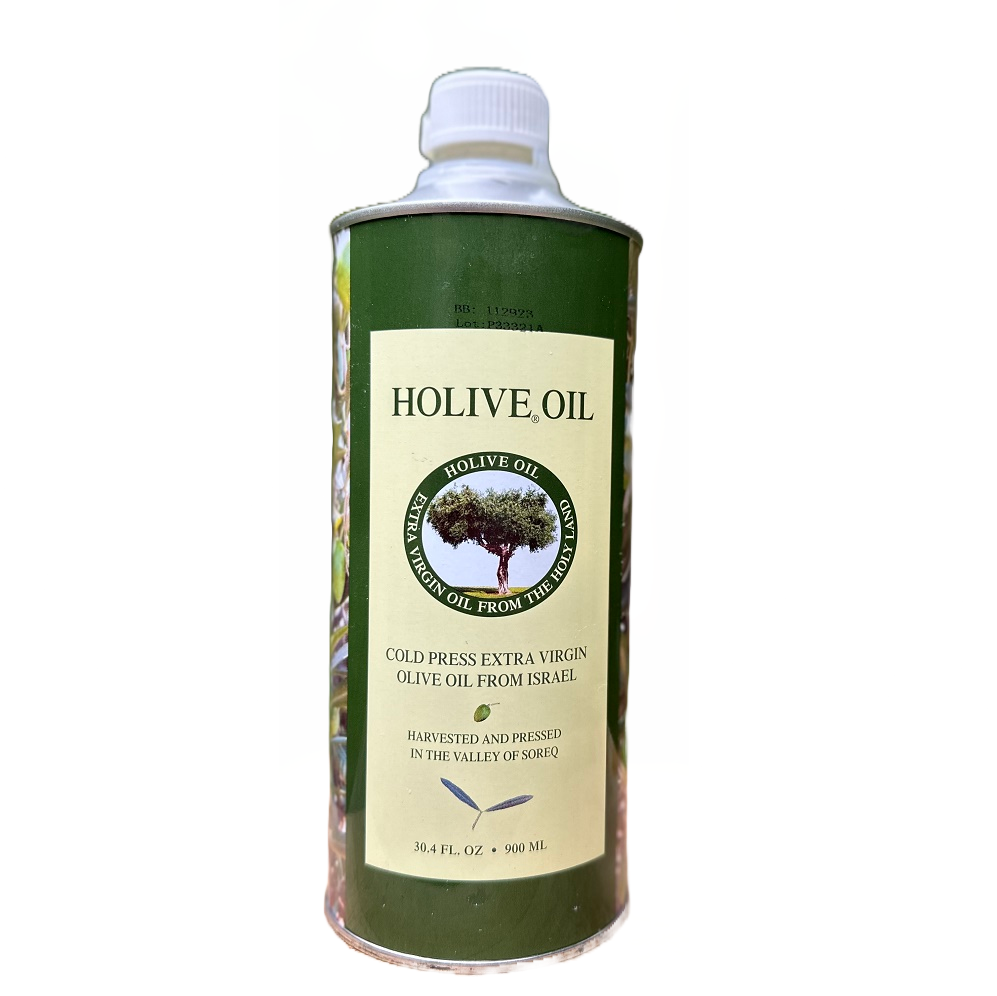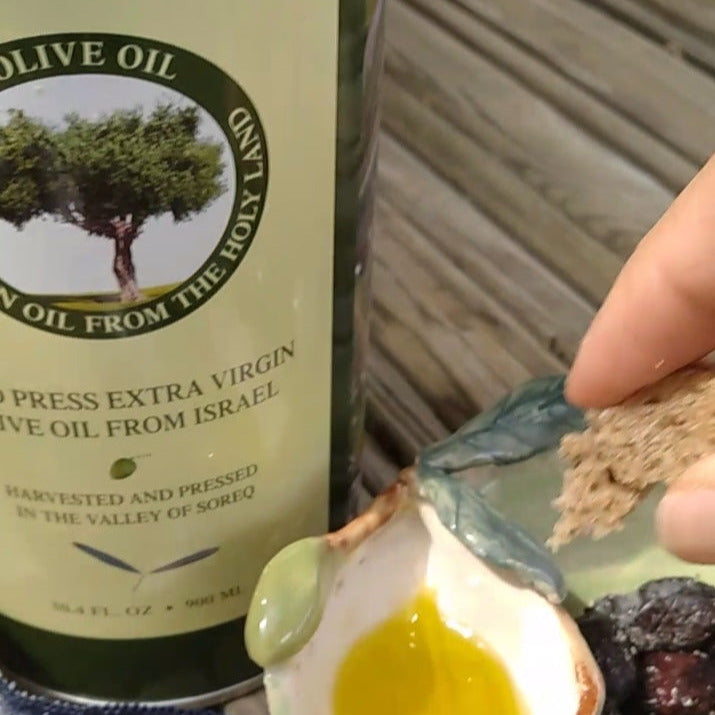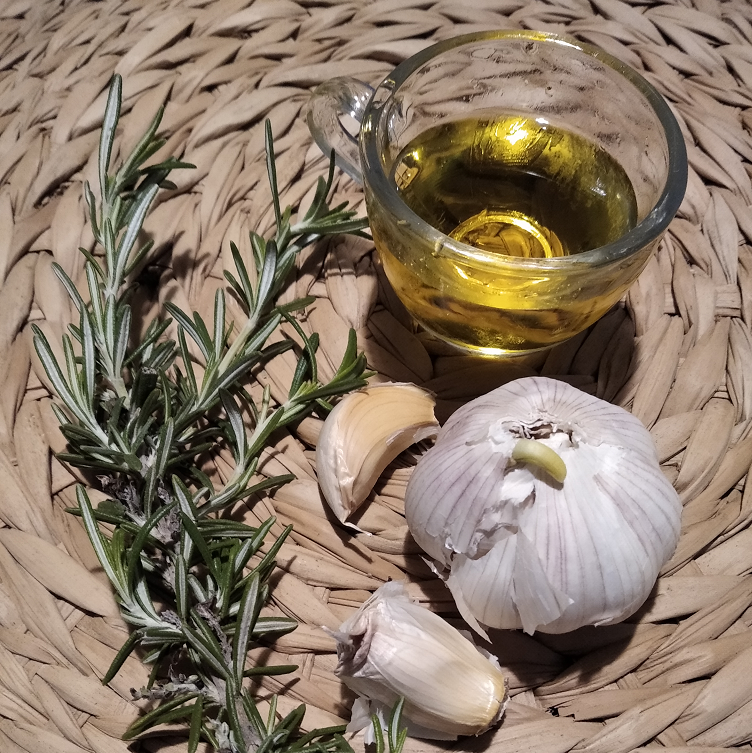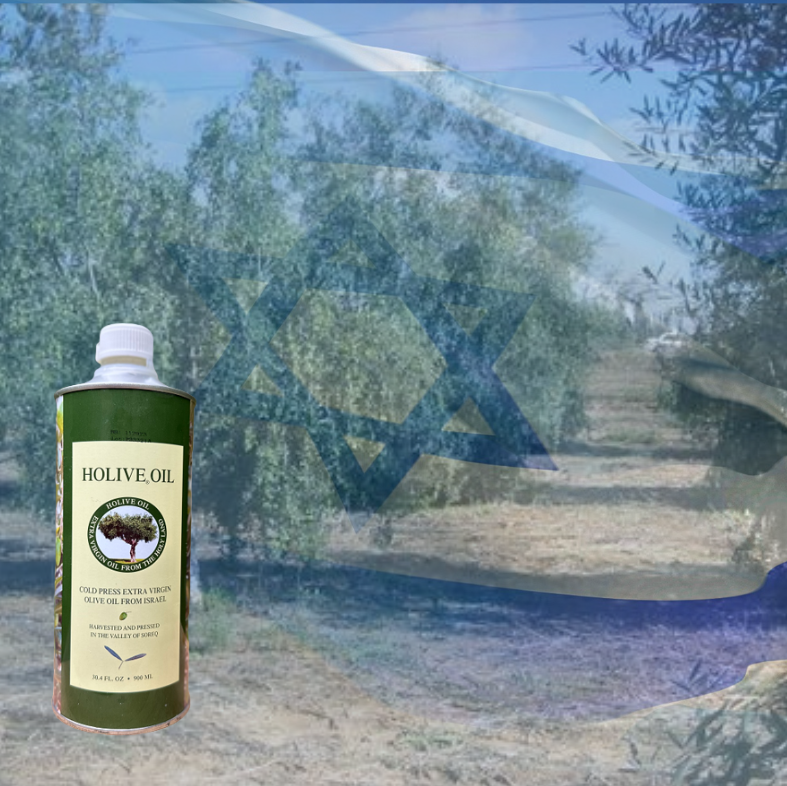 Product Details

Harvested and pressed in the Valley of Sorek in Israel.
We hand pick our olives at first harvest for maximal quality, and immediately cold press them to make Holive extra virgin olive oil. 
Good for dipping bread, drizzling, cooking, and anointing.

Food Pairing

Best with bread or salads, raw or cooked vegetables, fish, meat, cheese, pasta, pizza, soup, stews and sauces.

Nutritional Info

Made from early harvest Barnea olives which have a high concentrations of polyphenols.
Clinical studies have linked high-polyphenol olive oil with protecting heart health by helping reduce blood pressure, blood sugar and high cholesterol levels.
Polyphenols are believed to slow down the development of neurodegenerative diseases such as Alzheimer's.
Our customers in their own words
John L

"This Oil is SUPERB in many ways ! ! !
First, it's made in ISRAEL, country where olive oil has been used for more than three millennia's not only for cooking but in many cases for highly noble purposes.
Second…the quality is second to none.
Also, it comes in a metal container, which guarantees freshness of the product and safety when accidentally tipped over.
I've been using olive oil for the last 40 years but never had a clue that there's actually an oil that is not overly "greasy", oil that smells and tastes great, oil that can be used for all kinds of cooking, as a salad dressing, with hummus and bread dipping and everything else that requires oil as part of a recipe.
I've been using Holive Extra Virgin Olive Oil from Israel exclusively for just about last 2 years and as long as the quality stays the same I'll NEVER CHANGE TO ANY OTHER BRAND….NEVER !
I understand, some folks gonna read this short review and say—man, it's just an oil…but i challenge you, check it out, put it to a test in your own kitchen and see for yourself that "not all oils are created equal" I mean—hahaha—produced equal….Yep
Did I mention about the Excellent Customer Service ? All your questions and concerns will be answered in no time, simply, great people selling great product. Support hard working people of Israel, let's fight the
godless BDS !

Jim in CA

"This was my third order of three containers of this olive oil. If you have not had it and have only ever had grocery store olive oil you are in for a pleasant surprise. I was visiting and touring Israel a couple of years ago, The produce in the hotels and Kibbutz where I ate was fantastic. Many of the dishes used olive oil on them. I was not a big lover of olive oil as a dressing, but that changed when I had the Israeli oil. It is a lighter, but richer flavor and brings out the flavor of the item it is served with. If you ever cook egg whites and get turned off by the bland taste even when using mushrooms, green onions, salt and pepper. It is a whole new dish when cooked in this oil."

F.

"Superb and tastes like no other. Delicious; some of the best EVOO I've ever had."

Mary D.

"I never knew olive oil could taste like this! I've always bought it from the grocery store and most of it is Spanish origin. Never thought it was anything to brag about and didn't 'love' the taste of it. This olive oil is wonderful! Now I see where people would want to drizzle it on food & dip bread into it & such things. It has a full, nutty sort of flavor that is truly different than any olive oil I have ever purchased. I will be buying more soon from this producer in Israel. Love supporting Israel so I was so glad that it tasted to awesome! Wonderful product. Comes in a metal bottle, which is unique."

Robin S.

"Can't recommend this highly enough. OMG! This is the most flavorful olive oil I've ever tasted, and I didn't even know olive oil could be that flavorful. This brand has a "nutty" taste to it, which adds to pretty much everything I cook."

S.

"A hint of a nutty flavor which is what I like, cooks very well, nice smooth touch to a salad, plus I support Israel wherever I can."

D. B.

"Easily the best olive oil I've ever eaten. It has a better texture and flavor than the commercial junk at the grocery stores, even the pricier brands. I hadn't realized that the olive oil I'd been getting was a lil sticky feeling until I tried Holive Oil. Now I'm ruined LOL not going back!!"

Judy

"I love this olive oil! I've been using it for several years now. It adds great flavor to everything I cook and puts all other oils to shame here in the USA, which are highly processed and not real olive oil."
Hydroxytyrosol is a potent antioxidant naturally found in olives and olive oil. It's been getting a lot of attention lately because of its benefits to the health of the heart...

Hydroxytyrosol is a potent antioxidant naturally found in olives and olive oil. It's been getting a lot of attention lately because of its benefits to the health of the heart...